Members of your congregation with hearing loss may be encountering barriers to communication and missing out on your message. Noisy ambient sound, poor acoustics, technical difficulties with hearing aids and other circumstances can pose challenges. 
Canadian Hearing Services carries a broad range of communication devices designed to remove barriers and improve communication. Our experienced consultants can provide you with product recommendations and solutions customized to fit your needs.
 
Types of Products
Group Communication
Phonak Roger Select and Roger Table Mic II
Phonak Large Area FM System
Sennheiser Large Area Infrared System
Williams Sound Large Area WIFI-FM Hybrid System
Large-Area Induction Loop System
Soundfield Amplification Systems
  FrontRow ToGo
FrontRow Bluetooth Juno

Simeon Audita II
Roger DigiMaster
One-to-one Communication
One-to-one communication can be frustrating for people who are deaf or have hearing loss. Devices that facilitate clear communication are essential to promote active understanding and participation from your congregation. 
For members of the congregation with mild to moderate hearing loss, personal amplification systems amplify a single sound source and help overcome background noise in difficult listening situations.
These include devices that allow conversations to be typed and read at the same time and are ideal for information desks, member interaction and more
 
  UbiDuo Watch video
Williams Sound PocketTalker 2.0 Personal Sound Amplifier
Bellman Maxi Personal Digital Sound Amplifier
 
Comfort Duett Personal Sound Amplifier with charger
Williams Sound Motiva Personal Amplification and FM System
Williams Sound Portable Counter Loop System Watch video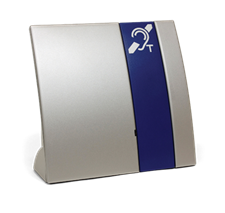 Univox Cross The Counter Loop System Watch video